I had hoped to write this post up last week but things got pretty busy once I got back to the real world and the week got away from me. I just wanted to write up a quick recap of my experience at Monospace last weekend while things are still fresh in my mind.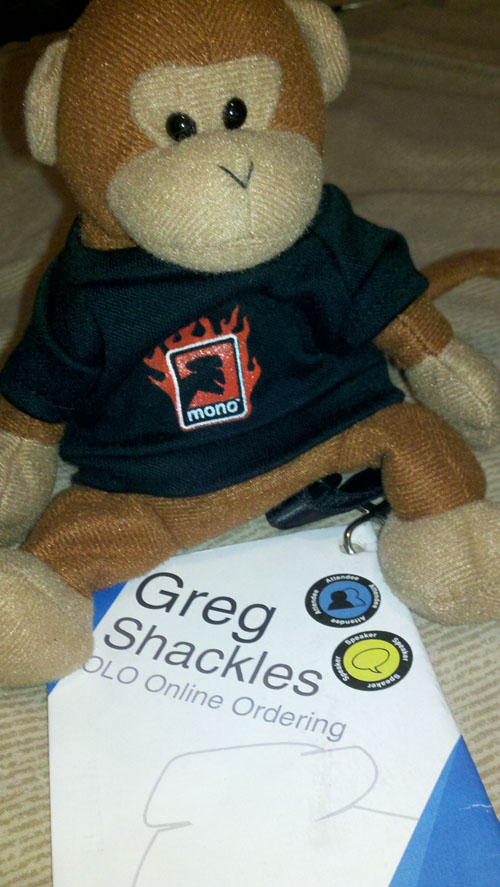 TL;DR version: Monospace was an absolute blast, and if you didn't go you seriously missed out. Be there next year!
There are far too many people I could mention that played a part in me having an awesome weekend, so I won't really attempt to, but there are a few I need to call out. First I need to thank Louis Salin and Dale Ragan for running an awesome conference. Everything was well coordinated, from the conference itself to the events at night. It's too easy to overlook the hard work they put in since everything ran so smoothly but they deserve all the credit in the world. Frankly I was (and still am) honored to have simply been included in the lineup of speakers for the conference, because there were some seriously talented people in there.
Next, I obviously have to extend a lot of credit to Miguel and Nat for keeping the community engaged and excited after the recent tough times. It was obvious there is a lot of energy surrounding Mono, from both Xamarin as well as the community, which was great to see. I got to meet so many awesome people throughout the weekend, some that I knew already but many that I didn't, and it was a pleasure getting to meet all of you.
I will definitely be there the next time they do this conference (hopefully next year!) regardless of whether I'm a speaker or not. Monospace is a different kind of conference from the norm, and is the kind of conference that needs to happen much more often. Also, how often do you get the chance to belt out a rousing rendition of Bohemian Rhapsody with members of the Mono team?
Hope to see all of you there next year!